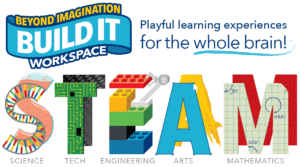 Enrollment is now open for the 2018 Summer Camps at Build It Workspace! 
Explore how science, tech, engineering, art, and mathematics are used to create a world of possibility. Youth will learn hands-on through playful projects, from building drones and self-watering plants, to game design and robotics. Build It uses 3D printing, Lego robotics, laser cutting, coding, wood and fiber crafts to challenge the left and right brain. Every challenge develops the curiosity and thirst for knowledge that complements traditional education. Each camp is engineered to be fun, inventive, and rewarding through achievement. Space is limited, register today!
Camps are Monday – Friday from 9 AM to 12 PM. Click on the camp name below to sign up.
An Agreement & Waiver form must be completed for each family. 

Extended Care

 is available. For more information, see our 

Frequently Asked Questions

or email info@buildit.ws or call (714) 947-0800.

Turn your curiosity into creativity by exploring different technology spaces at Build It Workspace. From traditional woodworking and fiber art to computer coding and digital avatar creation, Tech Spaces Summer Camp allow you to explore creative technology through age appropriate activities and challenges. Build It Workspace will allow you to explore 3D printing, robotics, laser cutting, and the software and science behind it all. 
Monday – Friday from 9AM to 12PM on the following dates:

June 25 – June 29

July 9 – July 13

July 23 – July 27

Ages 5-9 & 10+

Fee: $250
Build your own drone as you learn the different parts and inner workings that make drones a fun and educational hobby for all ages. Understand the different uses for drones, the latest in safety, and responsible use. Fee includes materials. 
June 18 – June 22 from 9AM to 12PM

Ages 10+

Fee: $450
Inspired by inventor and cartoonist, Rube Goldberg, campers flex their engineering muscles to build creative solutions to perform a simple task. Explore fundamental engineering concepts through hands-on challenges as you work together to build your own Amazing Contraptions!
July 16 – July 20 from 9AM to 12PM

Ages 5-9

Fee: $250
Put your robotics knowledge to the test and learn to compete with mentors who have had first-hand experience with competitive robot building and programming. 
July 16 – July 20 from 9AM to 12PM

Ages 10+

Fee: $250
Be the game designer, storyteller, programmer, publisher… and make something you can play and share with your friends! Build games and explore the creative and technical sides of game development. 
July 30 – August 3 from 9AM to 12PM

Ages 6-9

Fee: $250
What if a plant could water itself? Join us as we tackle this challenge by programming Arduino components. You'll learn about sensors, motors, programming, and how it all works together so a plant can take a drink when it's thirsty. Arduino is a standard microcontroller platform that unlocks a world of building with technology. Let's make plants happy! Fee includes materials.
July 30 – August 3

 from 9AM to 12PM
Ages 10+
Fee: $300