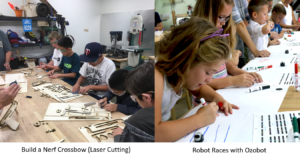 Parties at Build It Workspace are an exciting and creative way to celebrate your child's big day. Parties are priced at $300 for up to 10 guests. Additional guests may be added for $20 each, up to 30 guests.  Guests learn something new and create a unique project to take home.
Activities
Programming with Lego Mindstorms or Lego WeDo
3D Printing
Laser Cutting
Soap/Candle Forming
Paper Crafts with Electronics
Robot Races with Ozobot
Days/Times Available
Monday to Saturday between 5 PM – 7 PM
Sundays from 11AM-1PM, 2PM-4PM, or 5PM-7PM
The typical birthday party includes 60 minutes of activity from one of the packages selected above, 30 minutes of Birthday celebration, and 30 minutes to continue and finish activities. For example, the schedule for a Programming with Lego Mindstorms party beginning at 2 PM is as follows:
1:30 PM – 2:00 PM: Decorate and setup food *
2:00 PM – 3:00 PM: Build the Lego Mindstorms
3:00 PM – 3:30 PM: Celebrate birthday
3:30 PM – 4:00 PM: Lego Robot Races
4:00 PM – 4:30 PM: Cleanup **
* Hosts will have 30 minutes before the event to setup decorations and any food/drinks. A conference room or tables are available for food. A refrigerator and microwave are also available.
** Hosts will have 30 minutes of post-party cleanup. Please make sure all food and decorations are removed or discarded.
Your guest count must be finalized 2 days prior to the event date. A deposit is required to hold your desired date and time. Customized birthday parties have an additional fee.
Download our waiver, required for each birthday party guest. Scouting events, meetings and fundraisers are also available. Call us to book your event or click here to purchase your event online.